KID : MDM - Advisory and Education
One of the key internal assets in any organisation is the master data within its business systems. Companies are collecting more and more information about their customers, products, suppliers, inventory and finances. As the amount of data a company manages increases, it becomes more difficult to accurately maintain that information in a usable, logical framework.
The confusion caused by low quality master data maintenance leads to a range of issues including: poor customer service, redundant marketing campaigns, inaccurate product shipments, and ultimately, a higher cost of doing business.


Master Data Management - Challenges and Costs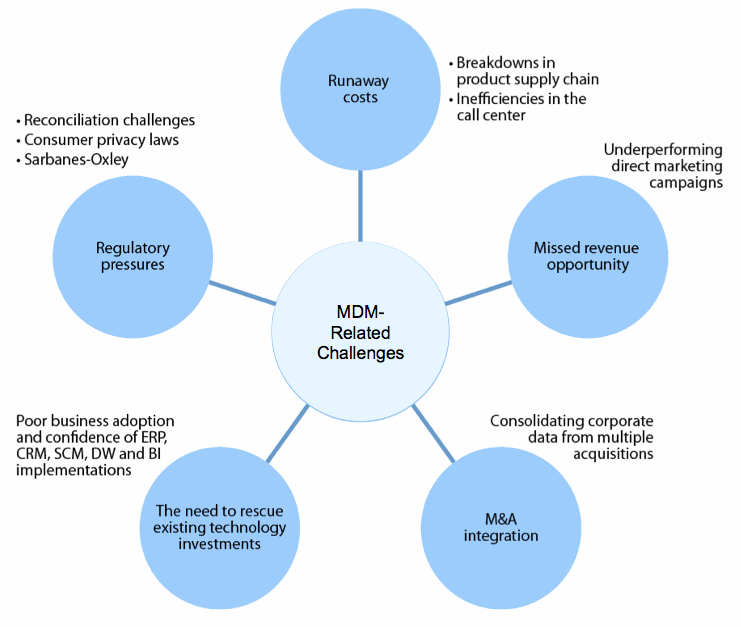 KID offers MDM advisory services, which include:
Master Data Assessments:
Our consultants follow our proprietary methodology, which includes the following key phases, perform analysis on-site:
- Identify the maturity level of the master data approach
- Interview the key stakeholders to determine the level of awareness of master data relationships across the organisation
- Determine if clear ownership has been assigned to master data objects.
- Assess any current process and procedures for master data maintenance
- Review any tools, technologies or systems used to support current master data processes
- Perform gap-analysis of the current state with best practice methodologies
- Compilation and documentation of the findings and recommendations via final report and presentations.
Master Data Management Project review and health check:
KID can provide design reviews at checkpoints in an ongoing project. We can review your system architecture, MDM and data integration strategy. We can review existing MDM implementations to identify opportunities for improvement.
Master Data Management education:
Our experts can help your team become competent quickly through training and mentoring. We can develop a project plan and work side-by-side with you through each step - from defining business requirements through design, development, testing, and deployment.
Master Data Management business case definition:
MDM is a cross-functional, technically complex, process-oriented discipline affecting information about customers, products, vendors, locations, and more. MDM requires acceptance and wide organizational support, and the message resonates best when MDM is placed into a business context.
Our consultants will assist you in building a business case detailing the following:
- The importance of a business case for the investment in MDM technology
- Steps to creating the business case for your organization
- The benefits that organizations are achieving from their investments in MDM strategies